LTP Series High Voltage Test DC Power Supply
Overview
LTP series is High Voltage Power Supply designed for high voltage experimental test needs with single-phase 220Vac±10% input.
Its maximum output power can reach 1000W and the maximum output voltage can reach 40kV, it is featured for stable & accurate output and low output ripple.
Comparing with the traditional linear high voltage Power Supply, its high-frequency switching technology can achieve faster response rate and higher efficiency with smaller size and light weight.
It is a best choice for HV laboratory testing, product testing and other HV applications.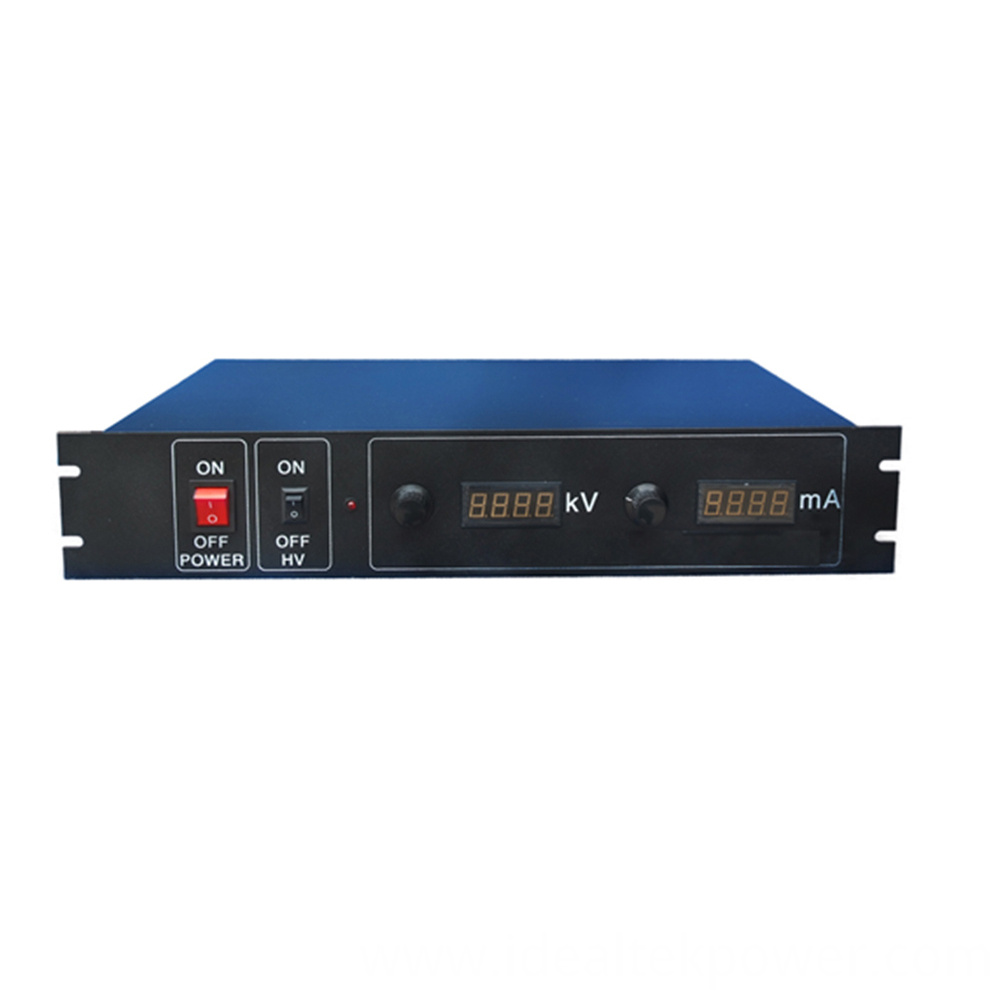 Features
l CV/CC working modes.
l Output voltage & current adjustable from 0 to 100%
l Stable & Low ripple HV output.
l 4-digit LED digital meters display.
l Perfect & Complete protection functions
l Compact structure, small size and light weight.


Optional Functions
l High output precision up to 0.1% (+0.1%)
l 0 ~ 10V analog signal control (standard DB interface) (+AC)
l RS communication interface (RS232 / RS485 optional) (+RC)


Principle Description
The IGBT full bridge inverter and the Series Resonant Tank circuit are the key components in this power supply.
The series resonant inverter converts input voltage source to a equivalent current source, each pulsing is equivalent to an energy pack, which is sent to output load or output filtering capacitor after HV rectifying.
Different output voltage and current corresponds to different output pulsing frequency, adjusting pulsing frequency leads to output voltage and current changes.
Functional Parts
l Rectifier Part.
l High Frequency DC/AC Part.
l Series Resonant Tank Part.
l High Voltage AC/DC Part.

Specifications
Input

Voltage

Single-phase 220V±10%

Frequency

50Hz/60Hz

Output

Rated power

****W

Output voltage adjusting range

1KV/2KV/3KV/4KV5KV/10KV/20KV/30KV/40KV available **

(For other output voltages, please contact us for details)

Output current adjusting range

0A ~ ****mA

Output polarity

Positive or Negative (both available)

Client must choose one output polarity before ordering.

Output connection

HV connector made by IdealTek.

Output cable

HV cable, 1.5m long provided.

Line regulation

0.5% for no load to full load at output.

Load regulation

0.5% for ±10% change in input voltage.

Ripple (Vr.m.s.)

≤0.5%@ rated output.

Efficiency

≥85%

Setting & Display

Output control mode

10-turn potentiometer on front panel.

Display mode

41/2 LED digital display

Protection & Monitoring functions

Load discharging protection

When the load has discharging due to insufficient safety distance between load and ground, the power supply shutdown the high voltage output, and then restarts, so cycle like this till the discharging fault is eliminated.

Short circuit protection

When a short circuit occurs between the load and the ground, the power supply works in constant current mode, the current is limited to the maximum value, and the voltage drops to 0 to protect the internal inverter from damage.

Over current protection

When the users' load exceeds the rated load and cause over-loading, the power supply works in constant current mode, the power supply output current does not change, and output voltage decreases.

Over voltage protection

When the power supply is unloaded, the power supply works in constant voltage mode to prevent power supply from overvoltage damage.

Noise

≤55dB

Protection degree

IP20

Cooling method

Forced air cooling

MTBF

50000 hours @ 25℃

Working environment conditions

Ambient temperature

10℃~40℃

Humidity

10%~90%(non-condensing)

Height

≤2000m

Storage environment conditions

Ambient temperature

-20℃~60℃

Humidity

10%~90%(non-condensing)

Height

≤4000m

Size (W*H*D) (mm)

200*100*300 (≤100W)

500*88*600 (19'' 2U standard chassis) (>100W)

l Note: every power supply has 48 hours full load burn-in test @ 40℃
Safety Cautions
1. This power module has HV output, only professional person could operate it.
2. Please make sure of good grounding before operation.
3. Capacitor Charging Power Supply has low internal stored energy, please NO no-loading working.
4. Keep power module clean and good ventilation.
5. HV input & output connectors or HV load no touch anything.
Standard Model List
KV

mA

P (KW)

Model

1

1000

1

LTP-220VAC-(N/P)1KW-1KV

2

500

1

LTP-220VAC-(N/P)1KW-2KV

3

333

1

LTP-220VAC-(N/P)1KW-3KV

4

250

1

LTP-220VAC-(N/P)1KW-4KV

5

200

1

LTP-220VAC-(N/P)1KW-5KV

10

100

1

LTP-220VAC-(N/P)1KW-10KV

20

50

1

LTP-220VAC-(N/P)1KW-20KV

30

33.3

1

LTP-220VAC-(N/P)1KW-30KV

40

25

1

LTP-220VAC-(N/P)1KW-40KV

More models are coming soon.
Looking for ideal Laboratory High Voltage Power Supply Manufacturer & supplier ? We have a wide selection at great prices to help you get creative. All the High Voltage Test Power Supply are quality guaranteed. We are China Origin Factory of Bench High Voltage Power Supply. If you have any question, please feel free to contact us.